So, you've logged in the AC Lobby, and found yourself having trouble playing the game for one reason or another.  This is where you will find the most common problems and solutions that should get you back to the game in no time.  If you are still experiencing issues and did not find a solution here, ask for help in the help lobby, or go ahead and start a new thread.
---
Fix my Spark!
Q.  

There is a red message at the top of the chat page that says "Requesting permission to run launcher" and it doesn't go away.


A.  

Look for an applet that is requesting permission to run.  Different browsers have different methods of doing this; some show the request on the page; others show the request in the address bar as a blocked pop-up/plug-in.  The launcher applet needs to run to download the game and start it when you click the Join buttons.



Q.  

I'm using JNLP mode but when I try to join a game it says it cannot launch the application.


A.  

You need to clear your java cache.  The fastest way to do this is to open a command prompt and type:
"javaws -uninstall"
Another way to do it is to open the Java Control Panel, click on Settings (under Temporary Internet Files), then Delete Files.  Check all the boxes then click OK.



Q.  

I click "Join" and the button changes to "Joining" but changes back without the game starting.


A.  

For one reason or another the AC Launcher is not working for you.  To use a different method to start the game, go to the Settings page, change the first setting to JNLP, save, then refresh the chat page.  Now when you click the Join button you will get a "armorcritical.jnlp" file that you can double-click to start the game.



Q.  

I have clicked on "Join" and a new browser windows appears with the Armor Critical running embedded, and it is still showing "Loading..." after three hours.  What am I doing wrong?


A.  

Embed mode doesn't work on your device, so you need to go back to the AC Lobby and go in Settings on the top right corner.  Once you're in Settings, scroll down to the Display panel and uncheck 'Embed Mode' and click Save.  You will now be playing under Non-embed mode.



Q.  

OK, I am on JNLP mode, and it tells me I need to update my Java.  Should I?


A.  

Upgrading to Java 7 and Java 8 and keeping them updated is recommended.  Java 6 SE will no longer work with ARC.



Q.  

OK, now I have updated my Java and cleared the temporary internet files, and it is still giving me an error or shuts down immediately.  Is there anything else I can do to fix my ARC?


A.  

There is another cache folder that you can clear out to get the game files wiped out.  Go to this link here to find out how to clear your LWJGLCache folder: http://forums.critical-hq.net/showthread.php?tid=461



Q.  

I am clicking through a bunch of pop-up's that tell me to download armorcritical-###.jnlp, click "Run" and "Allow" - Is there way to skip all of that so I can join a game faster?


A.  

If you can only run the game in JNLP mode, then the short answer is no.  You will have to be patient and click through all of them.  It's how Web Start is made.


---



Display Issues





Q.  

I have a widescreen monitor with a different Screen Aspect Ratio (not 4:3 ratio like this game's native 800x600 resolution) and the game is stretching in full screen mode.  Is there a way to fix this?


A.  

You have two options: You can look at the Display settings for your video card and disable/enable settings to give the game its true resolution/screen aspect ratio.  Or you can adjust your monitor's display settings to use one of the available resolutions with 4:3 ratio.  Keep in mind this would mean black bars on the sides of your widescreen monitor.  More information here: http://forums.critical-hq.net/showthread...47#pid2447

---
Gameplay Issues




Q.  

Everything seems sluggish in-game, is there way to make the game run smoother?


A.  

Assuming you have closed other CPU intensive programs, you should go to Settings on top right of AC Lobby.  When you're in Settings, scroll down to "Enable Vsync" box.  If it shows up as Checked, uncheck that box and try playing.  If that does not work, try limiting your Framerate (FPS) which has been known to help others in the past.  Feel free to enable or disable the other display features if you're looking for a boost in game performance.



Q.  

Java Security won't let me run the game due to an expired certificate.  Is there a way to get around this?


A.  

You can add the game's site to the list of Trusted Sites within Java Security settings.
 

1)

Go to Control Panel, type "Java" in Search, then Open Java.


 

2)

Go to Security Tab, Make sure "Enable Java content in the browser" is checked.
 

3)

Add armorcritical.com to the Exception Site List.

---



Q.  

I'm using Windows 10 and having issues getting the game to run full screen and/or the aiming reticle to show up.


A.  

Head to your Java directory (C:\Program Files\Java) and in to the most recent jre folder (eg. jre1.8.0_66) and enter the "bin" folder. Find jp2launcher.exe, right click on it and select properties. Switch to the compatibility tab and click "change settings for all users" at the bottom. Ensure that the "Disable display scaling on High DPI settings" is checked.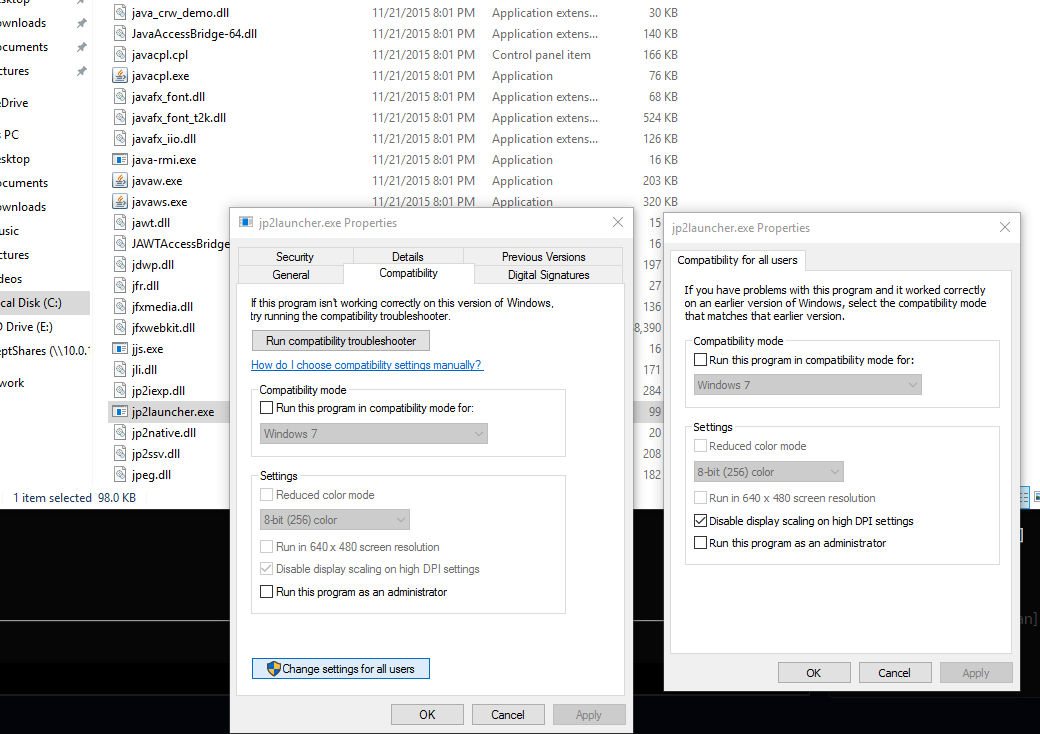 If you didn't find what you're looking for, please post a new thread.