REMAKE
Messenger's posts have inspiried me to start my own series which gives basic insight on how you should play certain CTA maps. At least in my opinion. Your opinion my differ but I have found that these strategies work out well for me. All of these are really basic common sense, but for some newer player they may be helpful.
1. USE THE MID GAPS
It's unbelievable how many people I see that don't take advantage of the gaps in the mid section to rape with their teammates. You don't always have to be right next to them to be involved with a rape. This may seem like common sense but the mid holes aren't always used to their full advantage. Each side has their advantages (it's not symmetrical), and I feel like red has the best rape spots with these mid-holes. Here are just a few spots you can shoot through to be effective.
Don't be overly aggressive from corner
I can't tell you how many people I see that try to hold the corner go overboard on the aggressiveness. I get it. You're bored and you want something to do, but you have to realize that holding the corner and being successful at it is possibly the most important position on the map. If you overextend out to shoot at mid you're putting yourself in a bad position with spawns on the outside by the opposite team, and also stray/aimed bouncies from the opposition. Your goal is to stay as healthy as possible. If you get smoked because you're a dumbfuck then you're having to swap out with a teammate and sort of breaking any momentum your team may have had.
Nade aggressively from the corner. Especially if your mid is winning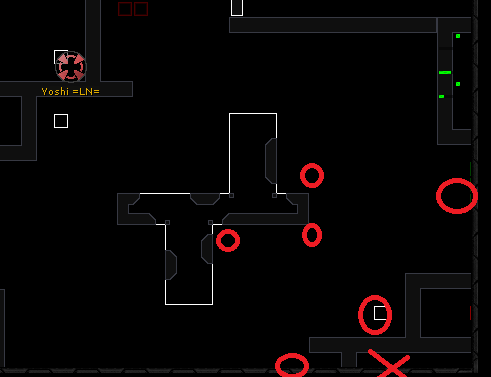 But Yoshi, you told me that I shouldn't be playing aggressive. No, I told you don't overextend. Your job as the cornerman is to keep your switch safe and to also provide cover fire for your team. With nades and also bouncies (don't overextend to shoot them though. If your team is winning mid keep track of death timers and try to time your nades into their spawns. If there is a stalemate at mid then nade the corners so help your team out and provide cover fire so they can advance positions and hopefully rape.
Unless it's a super strong push, two people shouldn't teleport at the exact same time to get the opponents switch
I know some people do it, but in my opinion it's wrong. If two teleport at the exact same time then one missle combo can kill both teleporters. That's right, if both ships are exactly on top of each other (which they will be) then they both take damage from weapons. Generally I like to wait a second after one of my teammates teleports in if I have the opportunity. This way the person at the switch usually wastes valuable ammo on the first teleporter and I can usually clean up afterwards.
SCENARIO: You're guarding the switch. A smoker is teleporting in..
Don't shoot a missle at the teleport. Just a stream of lasers at the teleport. This way you don't accidently mis-time your missle and get screwed over by having no blue bar. A stream of lasers will always kill the smoker before they manage to shoot anything at you. It's a simple tip that may help you out.
IF YOU SPAWN HERE AND THERE IS AN ENEMY THAT YOU CAN SHOOT YOU OWE IT TO YOUR CORNER MAN TO KILL THEM. IT IS YOUR RESPONSIBILITY. IF YOU DON'T KILL THEM THEY CAN POTENTIALLY KILL YOUR CORNER MAN AND TAKE IT