It's been quite a regular season so far, upsets, drama and amazing write-ups. I'm extremely happy with the regular season so far, it has gone very smooth. Now, as we all know after regular season are playoffs. Originally, our plan was to run 5 weeks of regular season, and have week 6 to play one week of playoffs before taking a two week break (Christmas and new years). We've decided to change things up a bit though, so this is how it's going to roll:
In Week 6, instead of doing a week of playoffs, we've decided to extend regular season another week to get a few games done. This is due to the abundance of games scheduled for this week, and with more reschedules on the way, we feel like it's going to be over-crowded this week. What we've decided to do is give all teams until the end of Week 6 (
December 21st, 2014
) to finish all games that need to be played. This includes games that are currently being re-scheduled, possible future games that might need rescheduling, and games that are tied for a seed #. In addition to finishing off previously scheduled games, there
might
be a possibility that we do an all-star game! Like I said, this is only a possibility. If there is a high demand, then it will probably happen.
After Week 6, we're going to be giving all teams a 2 week break. Starting from December 22nd 2014, up until January 5th 2015, the league will be taking a temporary break for the holidays to hang out with old Saint Nick. So we hope everyone has a Merry Christmas and a Happy New Year! Enjoy your time off, have fun with family & friends, and come back to AC with a power that will fiercely drive you to beat your opponents!
On January 5th 2015, the playoffs will start. More information regarding scheduling for playoffs will come soon. This is how the general structure is going to work: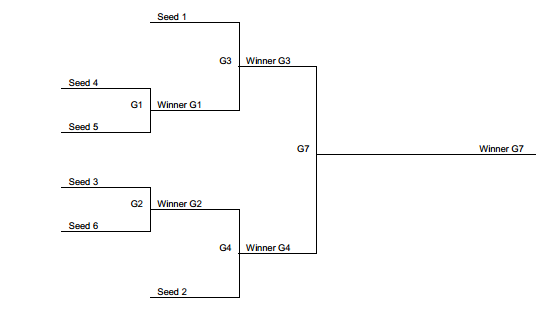 As you see on the diagram, Seed #1 & Seed #2 will get a first round bye respectively. Seed #3 & #6 will fight for
3rd seed
, while Seed #4 and #5 will fight for
4th seed
. The losers of
G1
and
G2
will fight for 5th and 6th place overall, the loser of the game being 6th place and winner being 5th place. The winners of
G1
and
G2
will be the new Seed #3 and #4
.
G3
and
G4
will be Seed #1 vs #4 & Seed #2 vs #3, the losers of
G3
and
G4
will fight for 3rd and 4th place in the tournament, and the winners will be the finalists (Seed #1 & #2). In
G7
, Seed #1 & Seed #2 will fight in bloodshed and through much torment, cap their flags to claim 1st and 2nd place in the tournament, where 1st place will be crowned the victors of the Gladiators 2014/2015 Tournament.
We've come a long way, but we've still got rivers to swim and stones to leap. We're putting 100% effort into this tournament, hoping that it will become a huge success, and in faith that our players will find the game to be as fun as it once was. We would like to thank
every
team that has participated for their efforts that they have put in. This tournament ,quite literally, wouldn't exist without you.
Sincerely,
The Gladiators BoD
---
[3:15:11 AM] WhiteWidow : ODO
[3:15:18 AM] WhiteWidow : i just had it ask me a question when I clicked on join game
[3:15:30 AM] Odoacer : huh?
[3:15:43 AM] Odoacer : there's a pill for that